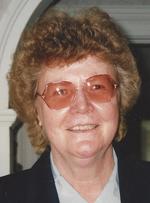 Sr. Helene Hayes (Mary Hayes), Religious of the Good Shepherd, PhD
It is with tremendous gratitude that we remember the life and contributions to the mission of the Good Shepherd, our dear Sister Helene Hayes...
Sister Helene Hayes died on January 6, 2020 after a brief illness. She was 72 years of age and had been a Sister of the Good Shepherd for 54 years.
Sister Helene was born in Melrose, MA in 1940, the daughter of John Hayes and Helena (O'Brien) Hayes.
Sister Helene attended Immaculate Conception Grammar School and Girls Catholic High School in Malden, MA before entering the Novitiate of the Sisters of the Good Shepherd in 1958 in Peekskill, NY.
She received her Bachelor of Science degree in the School of Education and her Masters degree in Social Work from Fordham University in NY. Sister then went on to study Policy Analysis and Planning in the doctoral program at Boston College in Chestnut Hill, MA where she earned her PhD in Social Work.
Sister Helene served as a group life supervisor in Good Shepherd residential programs at St. Germaine's in Peekskill, NY, and at Madonna Hall in Marlborough, MA. As a young "group mother" Sister Helene's first concern was always for the happiness and care of the girls.
Sister's many years of service to youth included Director of a Good Shepherd residence in Corona, NY, Executive Director of the residential program at Madonna Hall in Marlborough, MA, Program Director of Covenant House in Boston, MA and Executive Director of the Haitian Multi-Service Center in Dorchester, MA.
Sister Helene also served with wisdom and kindness in community and province leadership positions as local superior, on province leadership teams and as Province Leader.
An outstanding scholar, writer and lecturer, especially in the field of human trafficking, Sister Helene worked tirelessly to advocate for and give voice to many women trapped in this form of human slavery. Recognizing Sister's gift for research and writing, the Congregational Leadership Team asked her to take on a research project addressing this pressing issue in today's society. Her work included consultation with victims from several countries as well as the United States. It was Helene's hope that her project will give a voice to the voiceless victims of trafficking and help those who care for them.
Sister Helene is survived by her sister, Sister John Mary Hayes, SSND, of Dorchester, MA, her cousin, Sister Mary Ita Hayes, MHSH and many cousins in Ireland.
Expression of sympathy in memory of Sister Helene may be made to the Good Shepherd Retirement Fund, 406 Hemenway Street, Marlborough, MA 01752
The Sisters of the Good Shepherd, a world-wide congregation, was founded in France by St. Mary Euphrasia Pelletier in 1835, in Boston in 1867, in Marlborough in1964 and in Harwichport in 1993.
For more on Sr. Helene's work click HERE.