Formation Process
Good Shepherd Formation Guideline
The formation process to becoming a Sister of the Good Shepherd is an approximate 8 year long journey. Below is a breakdown for better understanding of the stages within this process.
Inquiry Stage: We are open to women exploring religious life in general. Good Shepherd is among a number of communities being explored.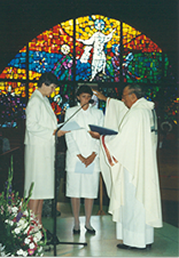 Pre-candidacy: (6-18 months) for women who have been in contact with Good Shepherd and have expressed an interest in discerning more seriously their call to religious life as lived by the Sisters of the Good Shepherd. The pre-candidate meets with the vocation director on a regular basis (every 4 weeks or so). She also has opportunities to visit Good Shepherd communities and ministries, and to participate in Come and See weekends, One Week a Shepherd program, and mission experiences.

Candidacy: (the pre-novitiate period: 10 months - 2 years) to provide women seriously exploring their vocation to the Sisters of the Good Shepherd with the opportunity to live apostolic or contemplative religious life in all of its aspects - prayer, community, ministry. During this time the candidate lives with a Good Shepherd community.

Novitiate: (2 years)
The first year of novitiate is considered "canonical" year. This year is devoted to prayer, reflection, study of our Catholic tradition, Catholic social teaching, Church, scripture, spirituality, religious life, Good Shepherd mission, life and spirit of the congregation. The novice continues to participate in the life of the local community and Province.
The second year of novitiate is considered "apostolic" year for the novice who is a Good Shepherd apostolic sister. The novice lives in a local community and is engaged in apostolic ministry. She is also continuing to deepen her relationship with Jesus, the Good Shepherd through prayer and through the people with whom she is ministering. A Good Shepherd contemplative novice would continue to live in community and participate in all of it's aspects as she deepens her understanding of contemplative religious life and her relationship to Jesus, the Good Shepherd through prayer. She continues to participate in formation programs with other Good Shepherd Sisters and also in intercommunity formation programs.
Temporary Profession: (5 years)
The temporary professed sister lives Good Shepherd vowed apostolic or contemplative life in all of its fullness. During this time she continues to deepen her relationship with God and her identity as a Good Shepherd Sister by participating in the life of the local community, the province, the congregation. She also participates in Good Shepherd Formation Programs, as well as intercommunity formation programs as available and recommended.
Perpetual Profession (Final Vows)