US State Dept. International Women of Courage Award
Highlight on Sr. Marie Claude Naddaf
To mark International Women's Day, Secretary of State Condoleezza Rice established the annual International Women of Courage Award in March of 2007 to recognize women around the globe who have shown exceptional courage and leadership in advocating for women's rights and advancement.
This is the only Department of State award that pays tribute to emerging women leaders worldwide, and offers a unique opportunity to recognize those who work in the field of international women's issues. It recognizes the courage and leadership shown as they struggle for social justice and human rights.
Our own Syrian Good Shepherd Sister Marie Claude Naddaf, serving in Damascus for the past 25 years, received the award on March 10th, in our Nation's Capitol from Secretary of State Hillary Clinton.
"These ten women have overcome personal adversity, threats, arrest, and assault to dedicate themselves to activism for human rights," said Melanne Verveer, the State Department's first ever Ambassador-at-Large for Global Women's Issues. "From striving to give more voice to politically underrepresented women in Afghanistan to documenting human rights abuses in Zimbabwe, these heroic individuals have made it their life's work to increase freedom and equality in the world."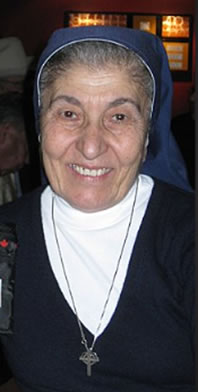 Sr. Marie Claude Naddaf
Working for social services for women
When Marie Claude Naddaf assumed the role of Mother Superior at the Good Shepherd Convent in Damascus in 1994, Syria did not offer social services for women suffering domestic violence, homelessness, or trafficking. Women trafficked into prostitution were imprisoned for months on end, held in jail with criminals until they could be deported. Sister Marie Claude set out to create a range of services for women through her Damascus Convent, and, in so doing, gradually created a partnership with the Syrian government on tackling violence against women.

In 1996, Sister Marie Claude and the convent opened Syria's first facility, the "Oasis Shelter," for victims of trafficking and domestic violence. In the years since it opened, the success of the shelter inspired the launch of another facility – with full government cooperation – specifically for survivors of domestic violence, and a third specifically for those affected by trafficking.

Sister Marie Claude launched Syria's first women's telephone hotline, which is attached to a new emergency shelter where women can get counseling, legal advice, and temporary shelter 24 hours a day. She won the right to have women in police custody released to a shelter if it was determined that the women were victims of trafficking. In 2009, this agreement resulted in more than 20 South Asian women trafficked into Syria for domestic work being released into the custody of a shelter – a visible symbol of the government's transformation from thinking of trafficking survivors as criminals in need of punishment to victims in need of services.

Sister Marie Claude has also pressed for better treatment of female prisoners. She established a special nursery at the prison in Damascus, and began a vocational education program to eliminate illiteracy and provide training for skills that will prepare the women for successful reintegration and better futures upon their release. Along the way, Sister Marie Claude also trained a dozens of committed nuns and activists in shelter administration, outreach, education programming, and more.
---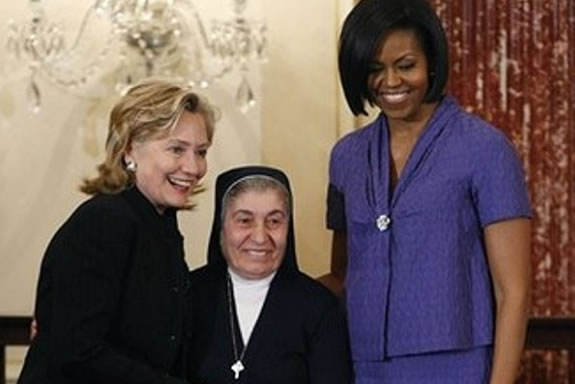 Secretary of State Hillary Clinton, Sr. Marie Claude Naddaf and First Lady Michelle Obama